Cosmetic dentistry refers to a host of dental treatments designed to enhance the smile and correct chipped, cracked, discolored, and unevenly spaced teeth.cosmetic dentistry has become a vital and important part of the dental profession and one of the fastest growing areas of dentistry From porcelain veneers to tooth-colored fillings, our patients can choose from a variety of cosmetic dentistry solutions to restore the health and vitality of their smile.
From minor flaws in the smile to severe tooth discoloration, missing teeth, and uneven spacing between teeth. The following is a list of common aesthetic dentistry options :
01. Teeth Whitening
02. Porcelain Veneers
03. Dental Implants
04. Dental Bonding
05. Tooth-Colored Fillings
06. Porcelain Inlays/Onlays
07. Dental Crowns
08. Dental Bridges

Teeth Whitening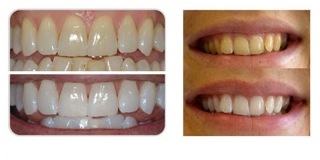 There are two methods for whitening teeth:
- In office teeth whitening
- At-home teeth whitening
Back to top...
Porcelain Veneers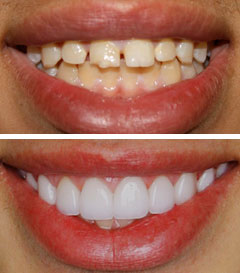 Ceramic shells applied to the front of the teeth to conceal cracks and chips, overlay gaps, and create a whiter appearance to a person's smile.
Back to top...
Dental Implants
Artificial roots that are embedded in the jaw and are each topped with a prosthetic tooth. Dental implants are a restorative and cosmetic dentistry solution for missing teeth.

Back to top...
Dental Bonding
The application of tooth-colored composite to the teeth. The bonding material can then be polished and shaped to look like the rest of the teeth.

Back to top...

Tooth-Colored Fillings
A composite resin material matched to the natural shade of your teeth. Tooth-colored "white" fillings are an attractive alternative to silver amalgam fillings.

Back to top...
Porcelain Inlays/Onlays
Durable and attractive restorations used to repair cracked or otherwise damaged teeth. Inlays and onlays require less tooth reduction than fillings or crowns. Back to top...
Dental Crowns
A cap used to repair badly decayed or damaged teeth. The crown is created from a mold of the original tooth, and then applied after the decay is removed and the tooth is prepared.

Back to top...
Dental Bridges
A sturdy structure composed of two crowns and a prosthetic tooth. Dental bridges are used to "bridge" the gaps where teeth are missing.

Back to top...